Arnold Art Store and Gallery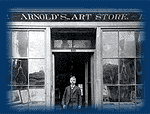 In a town known for its heritage of beautiful architecture and traditional values. Arnold Art Store and Gallery ranks as one of the oldest and most attractively restored businesses.
Established in 1870 as an art store and frame shop by William Arnold, it has been owned and operated by the Rommel family for over fifty years. In 1973, they moved it to its present home at 210 Thames Street.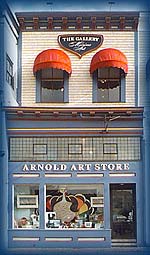 Arnold Art has always been synonymous with the highest standards of quality and service. An award winning renovation took place in 1983, thus providing a lovely setting for the expanding gallery and framing business.
Our store offers a wide selection of fine marine and contemporary art, posters and prints; art, craft and drafting supplies; and of course, museum quality framing. Store hours are 9:30 to 5:30, Monday-Saturday, 12:00 to 5:00 Sunday.